Do you dream of having silky smooth skin without the hassle of shaving, waxing, or tweezing? Look no further than BBL Forever Bare laser hair removal. This revolutionary hair removal procedure is designed to provide long-lasting results for all skin types and hair colors.
BBL Forever Bare works by using multiple low-fluence pulses to build up heat in the hair follicle. This heat damages the follicle and slows down hair growth, resulting in a noticeable reduction in hair growth. Unlike traditional laser hair removal procedures that can be painful, BBL Forever Bare is a virtually pain-free solution, with many patients reporting only a mild warming sensation during the procedure.
In addition to its effectiveness, BBL Forever Bare is also incredibly convenient. The procedure is quick, with most sessions lasting only 20-30 minutes. There's no need to grow out your hair prior to the treatment, as the laser can target even the shortest of hairs.
BBL Forever Bare is safe and effective for all skin types, from the lightest to the darkest. The laser has been specifically designed to adjust to each individual's skin tone, ensuring optimal results and reducing the risk of side effects.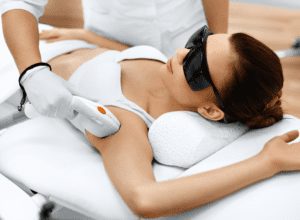 One of the biggest advantages of BBL Forever Bare is that it is a long-lasting solution. Most patients experience a significant reduction in hair growth after just a few treatments, and with maintenance sessions, the results can last for several years. This means you can spend less time and money on hair removal in the long run and enjoy silky smooth skin all year round.
If you're looking for a hair removal solution that is safe, effective, and convenient, BBL Forever Bare is the answer. With a virtually pain-free procedure, quick sessions, and long-lasting results, there's never been a better time to try this revolutionary hair removal solution.
Enjoy silky smooth skin with confidence and book your appointment today!
In conclusion, BBL Forever Bare laser hair removal is a game-changer in the world of hair removal. With its innovative technology, virtually pain-free procedure, and long-lasting results, it's no wonder that this revolutionary solution has become a popular choice for people looking for a convenient and effective way to achieve silky smooth skin. Don't miss out on this opportunity to say goodbye to unwanted hair for good – book your appointment today!