Nourish + Exfoliate Skin
for a Radiant Glow
Nourish + Exfoliate Skin for a Radiant Glow
By submitting this form you agree to be contacted via phone/text/email.
Hydrafacial Skin Rejuvenation in Albuquerque, NM
The Hydrafacial is a popular skin treatment consisting of three treatments in one comprehensive experience. The Hydrafacial clears, exfoliates, and extracts dead cells and other impurities from the skin's surface using advanced vortex technology. At the same time, Hydrafacial infuses the skin with rich antioxidants and potent serums to further cleanse the skin while also moisturizing and hydrating. This soothing, hydrating facial revitalizes the look of the skin, leaving you with a radiant complexion after just one treatment. In addition, the innovative 3-in-1 facial improves wrinkles, fine lines, and brown spots, shrinks pores, and clears up oily or congested skin.
If you're interested in learning more about the impressive benefits of Hydrafacial, contact Optimum for a free consultation. We are the leading provider of the innovative Hydrafacial treatment in Albuquerque, New Mexico. Call (505) 226-0170 for a skin evaluation and discover how this treatment can help you achieve optimal skin rejuvenation.
By submitting this form you agree to be contacted via phone/text/email.
Hydrafacial Before and After*
The Hydrafacial before and after images show the dramatic skin improvements each patient achieves after their 3-in-1 facial. As with all treatments, results will vary.* However, the Hydrafacial before and afters are actual patients exhibiting genuine results of this powerful skin treatment.
The Hydrafacial in 3 Steps
The Hydrafacial is a comprehensive skin care treatment containing multiple treatments: hydradermabrasion, chemical peels, extractions, and topical applications of powerful serums containing ingredients like antioxidants, peptides, hyaluronic acid, and other beneficial serums. This facial is gentle and painless. It uses a state-of-the-art vortex tip to simultaneously cleanse and extract impurities while infusing the skin with serums.
Step one of the HydraFacial is the Hydradermabrasion process. It cleanses and exfoliates dead skin and bacteria like dirt or buildup that commonly clog pores.
Step 2
Extract and Hydrate
Extraction uses an advanced vortex tip to painlessly suction up the loose debris from the pores. Next, the skin is nourished with powerful serums, including HA, antioxidants, and other nutrients.
The HydraFacial protects the skin with daily essentials that seal in moisture and maintain the results.
Get the The JLo Beauty Booster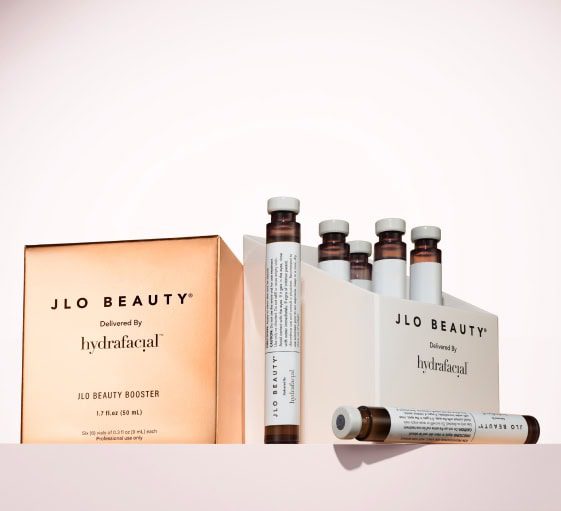 Radiance begins with skin–but it doesn't end there. When you look your best, you feel your best, and your inner glow shines through. The new JLO BEAUTY Booster was created to help you feel confident in your skin, and delivers fresh, dewy results you'll see–and feel–instantly. Take it from Jennifer Lopez herself!
Understanding the Hydrafacial Process
The Hydrafacial improves the skin in various ways. On the surface, the Hydrafacial cleanses and exfoliates the skin, freeing it from dead cells and bacteria. This part of the facial reveals a fresher, smoother layer of skin that is bright and radiant. Hydrating the skin also plumps it up. This improves the appearance of skin laxity. Finally, the Hydrafacial is clinically proven to change your skin on a biological level.
Reviews of the Hydrafacial in scientific literature report multiple modalities in this facial to promote natural skin rejuvenation. It stimulates cellular renewal and triggers the production of collagen. This type of skin rejuvenation improves wrinkles and fine lines, reduces brown spots, shrinks enlarged pores, and restores the skin entirely.¹
The Hydrafacial results are noticeable almost instantly. Most patients enjoy visible skin tone and texture improvements after a single session. As with any skin treatment, results will vary.* Most patients enjoy ultra-hydrated skin for seven or more days after treatment. For longer-lasting results in improvements to wrinkles, sun damage, or congested skin, continued Hydrafacials are recommended.
Hydrafacial results may improve the appearance of:
Hydrafacial Reviews in Scientific Literature
Hydrafacial reviews published in the Journal of Cosmetic Dermatology found that after their Hydrafacial treatment, the skin "demonstrated increased epidermal thickness, papillary dermal thickness, and polyphenolic antioxidant levels. There was replacement of elastotic dermal tissue, collagen hyalinization, and increased fibroblast density. Fine lines, pore size, and hyperpigmentation were decreased following treatment. There were no reported complications." With these findings, the authors concluded, "Hydradermabrasion effectively improved skin quality both clinically and histologically."¹
Enjoy younger, healthier, and more radiant skin with the Hydrafacial at Optimum. Learn more about this skin rejuvenation treatment by calling Optimum for a free consultation. We are the leading provider of the innovative Hydrafacial treatment in Albuquerque, New Mexico. Call (505) 226-0170 to discover how the powerful 3-in-1 facial can entirely change the look and feel of your skin.
How much does the Hydrafacial cost?
The Hydrafacial cost is different for everyone. The price you pay for treatment depends on the details of your personal treatment plan. During a consultation with Optimum, you can speak in-depth with a skincare specialist to determine how much your treatment will cost depending on your specific skin needs.
By submitting this form you agree to be contacted via phone/text/email.
DISCLAIMER
**Results may vary. We are reputable for complete customer satisfaction for completed treatments. Before and after images reflect real results from real patients, although individual results may vary. No treatment is promised to provide permanent results. A guarantee is neither provided nor implied. Statements estimating treatment duration and the number of treatments required are based on the typical experience of our patients, however, individual experiences may vary.
Promotions: *Terms and conditions apply. Offer is valid for new clients only.